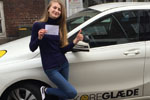 Taking the driving licence at KøreGlæde was more than boring driving and theory lessons. My great teacher Kaj, knew how to combine a simple lesson with lots of nice jokes and sometimes even
amazing singing concerts for free. It was quite funny driving around and at the same time being entertained by Kaj.
Besides the fact that I laughing a lot during the lessons, I can state that I felt secure all the time. I was sure that if I do something wrong, and I did it so maaaaaaaany times, that Kaj would react
immediately. First he would fix the problem I did and then I would get a detailed explanation of what I had messed up.
Moreover, there is no need to bother about the paperwork as far as the school is taking care about that, as well as the first aid course. You will be informed beforehand about all the process of taking
a driving license. When going to the manoeuver/slippery tracks, you will get good assistance and care. It's a highly professional driving school with dedicated teachers.
All in all, I can truly and with all my heart, recommend KøreGlæde and The happy Driving Instructor – Kaj. I can assure you will end up by having a great experience and you will have no regrets
about it.